There are a variety of opportunities and performances for high school students in the Omaha Metro Areas.
FOR UPCOMING HIGH SCHOOL PERFORMANCES/EVENTS CLICK HERE
Theatre Arts Guild offers students a discounted membership price of $18.
Check here for all the benefits – https://theatreartsguild.com/membership/membership-benefits/
COMMUNITY THEATERS OFFERING STUDENT TICKET PRICES
Bellevue Little Theatre – $10 ($10 savings)
Blue Barn Theatre – $25 or $30 ($5 savings)
Bright Saint Bright Theatre – $20 ($5 savings)
Chanticleer Theater – $10 ($10 savings)
Midland University – Free tickets – fill out online form to request
Omaha Community Playhouse – PLAYS Wed $18, Thurs-Sun $22 ($10-$14 savings)
Omaha Community Playhouse – MUSICALS Wed $20, Thurs-Sun $25 ($12-$17 savings)
Omaha Community Playhouse – OPENING WEEKEND of regular season production $7 (Lucky 7)
Ralston Community Theatre – $10 ($2 savings)
Shelterbelt Theatre – $15 ($5 savings)
SNAP! Productions – $20 ($5 savings), also FREE student RUSH tickets day of show


THEATRE ARTS GUILD SCHOLARSHIP
Educational development in the live theatre arts is one of the main components of TAG's mission. In keeping with this mission, TAG has created a scholarship fund to assist area high school seniors in pursuing higher education. Every spring, TAG solicits scholarship applications from graduating seniors in the metropolitan area planning to pursue at least a minor in one of the theatre arts at a college, university, or approved school of drama. Click HERE for more information.


NEBRASKA THESPIANS
Many high schools in Nebraska are members of the International Thespian Society and involved in various activities through this organization. For more information see http://www.nebraskathespians.org/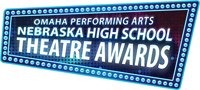 NEBRASKA HIGH SCHOOL THEATRE AWARDS SHOWCASE
The Nebraska High School Theatre Awards supports and celebrates musical theater education in Nebraska high schools. Culminating in a Tony Awards®-inspired showcase, the program offers free master classes with Broadway teaching artists, feedback from performing arts professionals, free tickets to touring Broadway shows when available, performance and audition experiences, the chance to participate in the National High School Musical Theatre Awards in New York City and more. For more information click HERE
NEBRASKA SCHOOLS
Ashland-Greenwood High School, Ashland
Bellevue East High School, Bellevue
Bellevue West High School, Bellevue
Bennington High School, Bennington
Blair High School, Blair
Bishop Neumann High School, Wahoo
Brownell-Talbot School, Omaha
Cedar Bluffs High School, Cedar Bluffs
Conestoga Junior/Senior High School, Murray
Creighton Preparatory School, Omaha
Daniel J. Gross Catholic High School, Omaha
Douglas County West High School, Valley
Duchesne Academy, Omaha
Elkhorn High School, Omaha
Elkhorn South High School, Omaha
Elmwood-Murdock Junior/Senior High School, Murdock
Gretna High School, Gretna
Louisville High School, Louisville
Marian High School, Omaha
Mead High School, Mead
Mercy High School, Omaha
Millard North High School, Omaha
Millard South High School, Omaha
Millard West High School, Omaha
Mount Michael Benedictine High School, Omaha
Omaha Benson High School, Omaha
Omaha Burke High School, Omaha
Omaha Bryan High School, Bellevue
Omaha Central High School, Omaha
Omaha North High School, Omaha
Omaha Northwest High School, Omaha
Omaha South High School, Omaha
Papillion La Vista Senior High School, Papillion
Papillion-La Vista South High School, Papillion
Platteview Senior High School, Springfield
Plattsmouth High School, Plattsmouth
Ralston High School, Ralston
Roncalli Catholic High School, Omaha
V. J. and Angela Skutt Catholic High School, Omaha
Wahoo High School, Wahoo
Weeping Water High School, Weeping Water
Westside High School, Omaha
Yutan High School, Yutan
IOWA SCHOOLS
A-H-S-T/Walnut High School, Avoca
Abraham Lincoln High School, Council Bluffs
East Mills High School, Malvern
Glenwood High School, Glenwood
Lewis Central Senior High School, Council Bluffs
Logan-Magnolia Junior-Senior High School, Logan
Missouri Valley High School, Missouri Valley
Riverside Community High School, Oakland
St. Albert High School, Council Bluffs
Thomas Jefferson High School, Council Bluffs
Treynor Junior-Senior High School, Treynor
Tri-Center High School, Neola
Underwood High School, Underwood
West Harrison High School, Mondamin
Woodbine High School, Woodbine