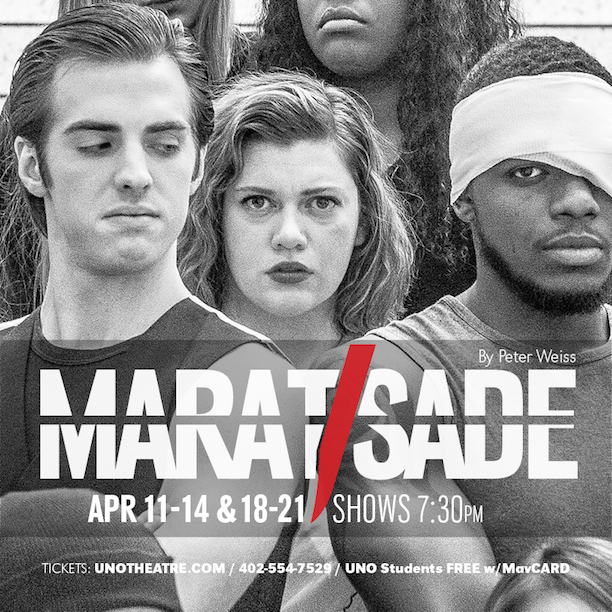 After 43 years of teaching higher education (34 of them at UNO), Professor Doug Paterson chose "Marat/Sade" by Peter Weiss as his directorial swan song. Why?
"I wanted to go out with a bang."
Doug Paterson has been making an impact in theater all the way to his high school days in Watertown, South Dakota. "I got into theater in high school for approval. It was fun. I could be seen. Absolutely all the wrong reasons to get into theater." Paterson was tall and good looking, playing George Gibbs in Thorton Wilder's "Our Town" as a high school sophomore. He went from Yankton College to graduate work at Cornell University in the political cauldron of 1968. He left transformed with a Ph.D. four years later.
Paterson returned home to found the Dakota Theatre Caravan, a theater collective that created plays about and for the people of the rural northern plains. The company, including fellow Cornell graduate and founding member D. Scott Glasser, traveled across the state in a car together. They performed in parks, church basements, and anyplace else that would host them. He eventually brought this concept to Omaha where, as a high school student, I saw a play co-written by Paterson (and co-starring Matt Kamprath) about Omaha history in a local park. It left a lasting impression on me.
Shortly after he began teaching at the University of Nebraska Omaha, Paterson got to know two young students who fell in love during the school's production of . . . "Marat/Sade." At their wedding reception, he and the newlyweds, Doug and Laura Marr, fell into a discussion about creating new theater company, including the concept of original "diner" theater productions. Along with fellow founders Kamprath and Mike Markey, they founded the Circle Theatre in 1984.
Paterson's life took a new turn in 1991, when he was introduced to Augusto Boal's practice of "Theatre of the Oppressed." Boal used theater to promote social and political change by inviting the audience to be active participants in the production. Paterson was particularly inspired by "forum theater," in which actors and audience members interact in short scenes in which a character was being oppressed in some way. Audience members are encouraged to enter the scene to replace the oppressed person in order to explore strategies to combat the oppression.
"We need to get away from monologue and move to dialogue," says Paterson. He hopes to inspire dialogue with "Marat/Sade," a play he keeps returning to since he first directed it over forty years ago. The original production, which won the Tony Award for Best Play in 1966, is a play within a play set in an insane asylum. It also includes musical numbers in a Brechtian style. Paterson and his co-director, Lara Marsh, have set his production in a medium security penitentiary in southern Nebraska, performed by the prisoners. "I want to question mass incarceration and class power. I want to explore issues of race and class and gender and war as a permanent state."
Paolo Freire, a hero of Paterson's who influenced the Theatre of the Oppressed, writes that "if we can't imagine something else different, there won't be something else different." Doug Paterson has spent a lifetime imagining something else different. As for his retirement, Paterson again quotes Freire. "We make the path by walking."
I can't wait to see where Doug Paterson walks next.
"Marat/Sade – The Persecution and Assassination of Jean-Paul Marat as Performed by the Inmates of the Asylum of Charenton Under the Direction of the Marquis de Sade" by Peter Weiss will run at the Weber Fine Arts Building on the campus of UNO, 6001 Dodge Street, April 11-14 and 18-21. There will be a TAG Nite Out on Tuesday, April 11. Remember to bring your TAG membership card—you will need it for the TAG Nite Out. Ticket prices are $16, and are available online at the UNO Theatre Box office or on line at https://t8.extremetix.com/Online/?siteID=3860. All major credit cards are accepted. Questions? Call the box office at (402) 554-PLAY (7529).