by Sherry Fletcher, Contributor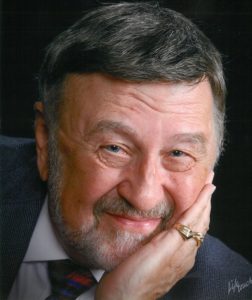 If you weren't at the memorial service for Fred Goodhew on August 13, there are probably a lot of things you don't know about the man known as "a musician's musician."
Fred could play literally every musical instrument there was, from strings, to brass, to woodwinds to drums. Several of his former bandmates spoke at the memorial about Fred's amazing ability to pick up any instrument and play it. And he could sing.
Working professionally as Fred Scott, in addition to having his own band, "Them There Guys," Fred played with multiple other bands and in a variety of musical styles. Fred toured with Dick Clark in the 60s and played with Bobby Vee and other popular performers of that era.
JoAnn met Fred when she went to listen to a band booked by the company she worked for, and Fred stopped by to hear them, too. She had seen him play many times, but her boss introduced them, and it's clear that Fred was quickly attracted to JoAnn. He "happened" to stop by the office the next day, which led to lunches, then date nights.
JoAnn says that her life before Fred was black and white and gray, and Fred added color. He was her rainbow. Her children became his children and they enjoyed 48 years of happy marriage.
Somewhere along the way, Rhonda Hall got JoAnn involved in, first, ushering at the Norton, then working backstage. Fred always encouraged JoAnn. When she hesitated about doing back-to-back shows, Fred would ask her if she enjoyed it. When she said yes, he insisted that she should follow her bliss. Eventually she became a stage manager. She and Fred enjoyed working on shows together.
I met Fred at the Norton, where Fred composed an original jazz score for "After the Fall." It was outstanding.
Fred's musicianship also included being choral director at his church, and a music director in community theater. He was also a respected actor. He supported the theater community in many ways, and served as president of TAG. He was an all-around good guy.
A musician like Fred comes along once a generation. He was liked and admired by all, and he will be greatly missed.